Moving home and packing a van is not something many people do every day. When moving properties, you may hire a van to help you move your valuables from A to B and it is important to make the right choice for your needs.
Depending on your budget you may choose to hire a van with a driver, or perhaps without.
Today we will be sharing our top tips on how to prepare for the day of your move, how to pack correctly and even how to unload! By knowing all these tips, you will feel much more prepared and hopefully ensure your special day feel much easier.
Book in advance
If you can, make sure you find out sooner rather than later when your property will be ready to move into. That way you can pre-book your moving van, ticking one more thing off your to-do list and potentially saving you a little cash!
BONUS TIP – Start packing nice and early so you can see how many boxes you have, that way you can hire the right sized van. You do not want a van that is far too big or not enough space at all!
Get ready and start packing
Packing nice and early is an important factor when it comes to moving. This is a time-consuming task but is essential to ensure a smooth moving day.
Plan for your moving day
Planning your moving day is also very important, as you will need to ensure there is space for the van to park for you or your moving team to transfer the items. A good idea is to chat with your neighbours well in advance, just so they are aware of any potential disruptions.
Make sure everything is ready on the day
This may seem like an obvious tip; however, it is vital for your moving day. Some van hiring services may charge by the hour, meaning that every minute counts! Being ready and efficient could save you some pennies in the long run so be prepared.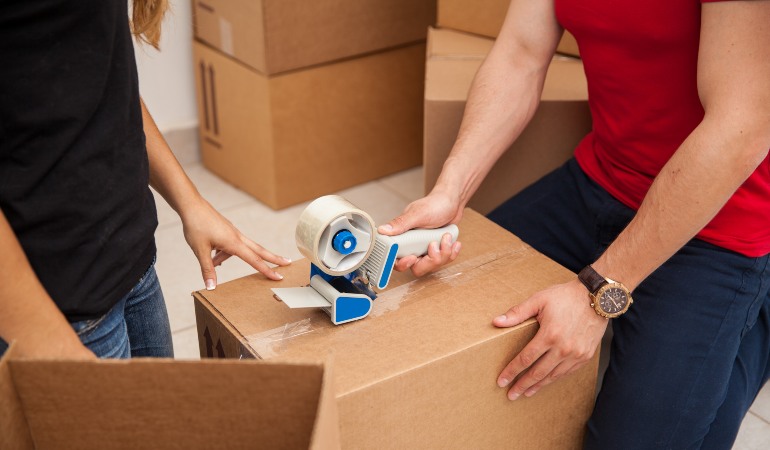 Packing your moving van
1. Load large items first
These are typically the items that take up most of your space. You can get creative and slip smaller boxes in between gaps later, but you do not want to find that you suddenly have no space for a double wardrobe and a bedframe!
2. Distribute the load
You want to ensure that you evenly distribute your load as much as possible. By carefully packing and placing the boxes, it makes life a lot easier during your travels and unpacking too. For example, you may want to put boxes underneath chairs to stop them sliding around while travelling.
3. Wrap up the breakables!
You do not want to discover that all your glasses or nice posts have been smashed when you open the doors at the other end. Make sure you protect these items before loading them on to the van. You will also want to cover any wooden items such as table tops to avoid any accidental scratches too.
BONUS TIP – Clearly label any boxes that contain fragile items. This ensures that the movers know what type of contents is in the box and it is a quick reminder for yourself to handle with care.
4. Check for drawers and doors
Do not forget to check anything that can open stays shut throughout your journey. Ensure that no drawers or doors can swing open while you load and travel.
5. Limit the empty space
If there is empty space in your van, you are more than likely to experience some movement during your travels. Like mentioned before, try and plan and think about the space you will need when you are the appropriately sized van.
6. Do not overload!
All vans will have a maximum load limit that you will need to stay under if you do not want any costly problems on the road. Overloading your vehicle can lead to serious problems if you are not careful, so make sure that you listen to the advice from your moving company and if in doubt, check the vehicle identification number (VIN) plate inside the van.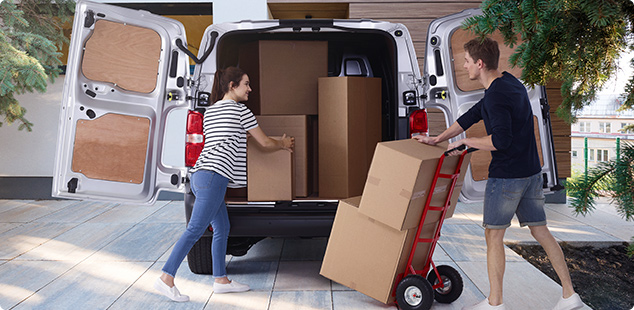 7. Load in rows
Loading in rows is an efficient way of managing your space. It is also advised to try and use the entire height of the van too, just so you are really optimising the space that you have.
8. Secure your items
To limit the amount of movement during transportation, make sure that you secure your items with strapping. This can be anything from rope to bungie cords.
Driving with a full load
Now that you are all packed, the next thing to consider is driving (if you hire the van without a driver!). Driving a full van might be new to you. So, make sure that you are careful with your speed and try to avoid heavy breaking where possible. This will help you move your items where they need to be in one piece.
Your steering may not be as sharp as you are used to either. Heavy loads can make it harder to steer and even take you further than you anticipated with the extra weight.
Make sure you have the key to your new property
This may sound like a strange tip however, many moving companies can agree that there have been countless issues where keys have not been collected beforehand. By having the keys with you on the day you can ensure that the unpacking process goes as smoothly as possible.
Unloading tips
It is easy in the stress of the moment to forget that you will have to unload all your items at the other end. This is not a process you will want to rush, so make sure that you have got somewhere to park up and take your time where you are not going to be an inconvenience to neighbours or possibly other road users.
Make sure that you keep in mind that things do generally move around during travel. Sometimes, no matter how careful you were when packing, things will find ways to become free. Keep your eyes peeled for any breakages or potentially unstable boxes while you are moving around to unload the van.
BONUS TIP – Plan where boxes and other items are going before you start to remove them from the van. A good way of doing this is by labelling your boxes beforehand, you may even want to place all your items in your new garden and then decide where everything will go once everything is out of the van.
To sum up, there are lots of things to consider on your moving day. With a bit of planning ahead and some great Tetris skills, you will be able to pack your items up in no time and get them there safely and in one piece!
At Boxall Brown & Jones, our priority is to ensure your moving experience is as stress-free as possible. We have created various to do lists to help you with the whole process; whether you are buying a property for the first time or even moving from one property to another, we have you covered!
Take a look at our checklists by clicking here.